Belgian Flax Linen Curtain With Back Tabs and Blackout Lining - Custom Width, Custom Length - 25 colours available
Skip to product information
Linen Blackout Curtains, Color: Natural

Linen Blackout Curtains, Color: Natural

Linen Blackout Curtains, Color: Natural

Color: Off-White

Color: White

Heading of Blackout Lined Curtain

Color: Heavy Weight Natural

Color:Heavy Weight Off-White

Color: Heavy Weight Clay

Color: Heavy Weight Ecru
Belgian Flax Linen Curtain With Back Tabs and Blackout Lining - Custom Width, Custom Length - 25 colours available
Main Features
Lining
Blackout 80% Darkening (100% polyester)
Total Blackout (100% polyester)
Colors
Available in 27 colors (Medium Weight and Heavy Weight Flax Linen)
Width
49"; 54; 66; 80; 90; 100"
Custom
One week customization
Handcrafted in Europe
Sold individualy
Our Curtains In Clients' Interior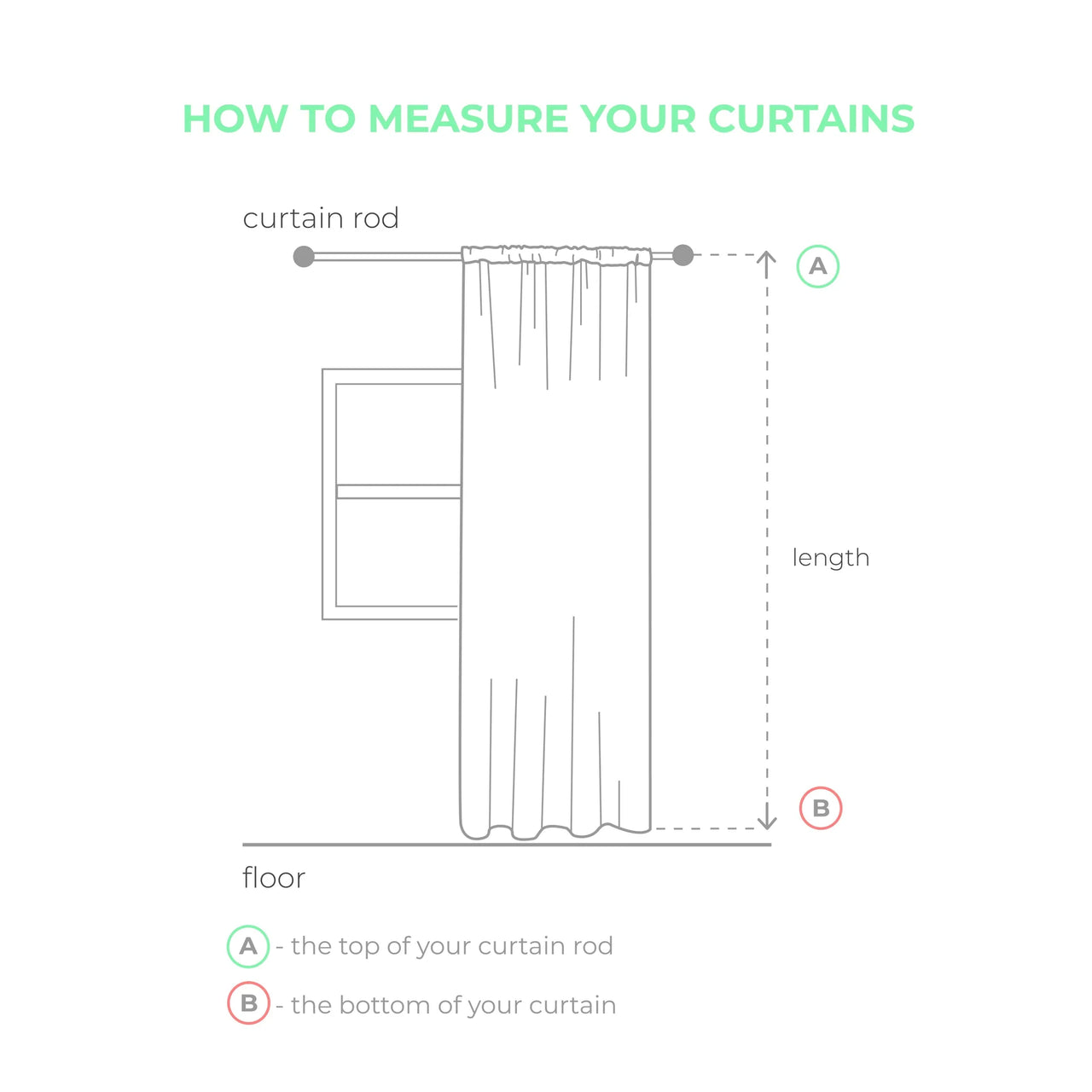 How To Measure
Measuring for the length:
Measure from the top of the curtain rod to the place where you wish to see the bottom of your curtain.
Back tabs (3" wide) that suit most rods
If you need custom size and heading - message us to get the quote
Measuring for the width:
The basic approach recommends to multiply the width of the window by 1.5  allowing a little gathering, so the curtain looks more full.
Washing/caring tips
Dry clean your curtains if they have lining;
Do not bleach;
Air drying is the best for your curtains;
Lightly iron if necessary with a low heat setting
Easier to iron while damp
Press

Frequently Asked Questions
Is it possible to obtain swatches to check color?
Are these priced for a single panel or a set of 2?

All our curtains are sold separately, so the price is indicated for a single curtain. If you wish a pair - please paste 2 in the field "Quantity" while checkout :)
How many tabs the standard panel has?

The standard 49" panel has 6 tabs
Can you give me a sense of how much light is blocked by a natural curtain with the cotton lining?

We recommend adding the cotton lining to increase privacy. It will block about 50 % of the sun light.
Shall you need sun blocking - blackout curtains are the better choice to go with.
What's the difference between Natural and Natural Heavy Weight

The natural medium-weight fabric (150 gms) is more relaxed and airy compared to natural heavy-weight (280 gms) which  is more dense and texturized. Heavy-weight fabric is also less seen through.
Custom Order / Custom Size
Love❤❤❤❤❤
I was upset about the postage being so expensive. I almost didn't order but, glad I did. The quality is exceptional and the color perfect match to swatch. Casual elegance at it's finest.
Perfect
They were better than expected, they look awesome in all the rooms. Great customer service. Contacted us to verify the order and sent a photo to make sure the color choice for the blackout was good, we went with off white which would require a white liner, resulting a small amount of light to come through. Overall great experience and would use again
Wonderful Drapes
I just love my curtains. They are beautiful quality and so well priced. The linen is beautifully textured and soft. The communication, samples and order process was stellar. I couldn't be happier. Now I am looking for more reasons in my house to order more colors/styles. Thank you so much!!
Linen curtains
These are absolutely beautiful!
Excellent product and customer service
I LOVE my new curtains. The customer service team kept me informed about my order every step of the way, and the curtains arrived very well packaged and look great!